Rolling Video Games of Chicagoland brings our amazing video game truck to parties in and around the Chicago area. We service a radius of 50 miles from Oak Lawn, Illinois (zip 60453).
The map below represents our Primary Service Area (30 mile distance from 60453) in green shading, and our Secondary Service Area (30-50 miles from 60453) in yellow.
We assess a Travel Surcharge for parties beyond 30 miles. See chart below map.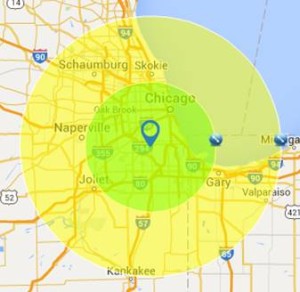 Use this handy application to calculate your distance from us. Just enter your zip code, and use the "Driving Distance" shown rather than the "Point to Point" distance.
If you are just outside the 50 mile driving distance, contact us to see if we can service you before booking any party.
Travel Surcharge Chart
Distance from Us Travel Surcharge
0-30 Miles No Surcharge
31-40 Miles $25 Travel Surcharge
41-50 Miles $50 Travel Surcharge